Agritourism in Leogang
Holidays out in the open at the Hof Rieder Häusl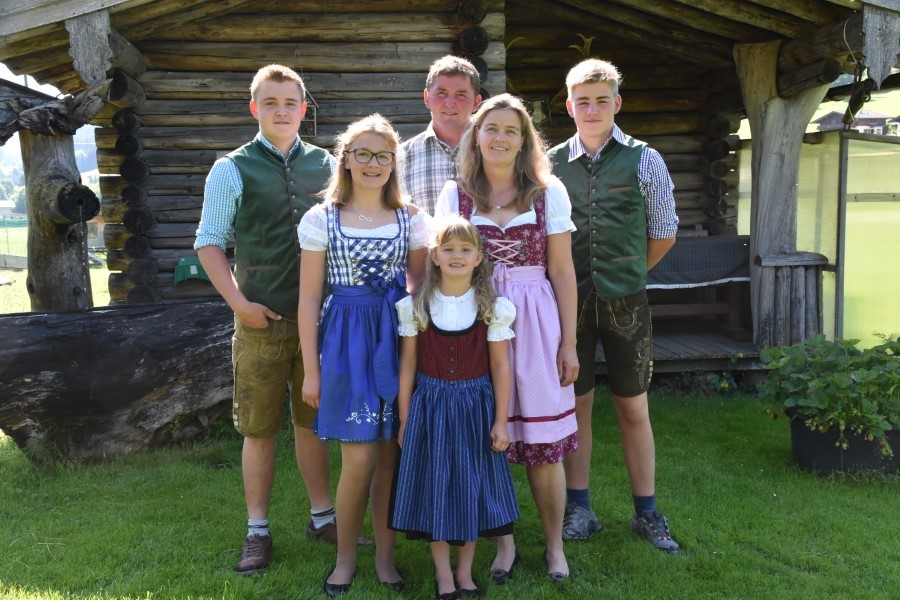 Elke, Stefanie, Hias, Marina, Andreas, Matthias & Oma Annelies (from left to right) welcome you at Hof Riederhäusl!
Our small, family-friendly farm surrounded by green meadows is just perfect for your holidays with the whole family. It is the ideal starting point for numerous walks or bike rides in the surrounding region. With the Sommer-Löwen-Alpin-Card there are numerous deals available in order to get to know Leogang and its peculiarities. In winter all skiers and snowboarders in Leogang-Saalbach-Hinterglemm Fieberbrunn (Austria's largest ski area) will get their money's worth. Unlimited snow pleasure awaits all cross-country skiers, sledders and winter hikers!
Holidays at our farm can also mean simply doing nothing and just relax. Flowers as a recreation for the soul! Our farm is surrounded by flowers and beautiful places that are inviting you to sit down, to linger, to stop and to let your mind wander. Enjoy the unique panoramic view of the Leoganger Steinberge, the gently curved Pinzgauer Grasberge and the Steinerne Meer in Saalfelden. Breathe in the clear, clean mountain air and delight in the sight of lush green mountain pastures and idyllic flowing mountain springs at your farm holidays in Leogang on Riederhäuslhof.
We are very eager to create your most precious days of the year as pleasant as possible, We are here to fulfill almost any of your wishes and we are looking forward to welcoming you to our Riederhäuslhof!
FEEL NATURE AND SPOIL YOUR SENSES IN LEOGANG AT HOF RIEDERHÄUSL